Resource: One Way Out: The Promise of Network Marketing
Is Network Marketing YOUR Way Out?
Get The Information YOU Need From Someone Who Isn't Trying To Recruit You!
Network Marketing, MLM, Direct Sales …
With so many different labels no wonder people are confused. Add to that the failing economy and you have an increase in the number of people looking at network marketing as a possible way to bring in additional income.
But what is the real story? With more and more people checking out an industry that even Donald Trump and Robert Kiyosaki believe in, how do you know who to believe?  You need answers and we can give them to you!

Start right here and in no time you can get the real information that will help you decide if this industry has what you need,
from someone who isn't trying to convince you to join their team!
One Way Out:
The Promise Of Network Marketing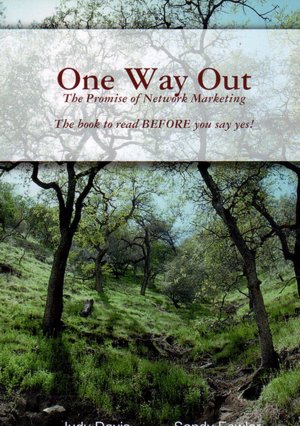 Paperback Book 
$9.95 + shipping    
E-Book

(Save on Shipping)

$9.95
Buy Now
You have probably heard the "sales pitch" about how this industry can:

Bring in additional income

Allow you to work from home

Reduce debt without giving up your free time
Sound to good to be true?  How do you know?  How do you know which company, which products, which organization, which team, and which opportunities are the real deal and which are scams? Well…
You NEED more INFORMATION!

With
today's economy
many people are looking for additional ways to bring
money
into their homes.
From
saving for college,
to having money left at the end of the month, most people
need more cash
coming in.

Sound familiar?

Add in
corporate downsizing
, and the need for
multiple income streams
increases substantially. And with so many people looking for alternative ways to
make a living
,
is Network Marketing a solution that makes the most sense? 
People look at
different
options when things get tight, some
get
a second job
,
others work overtime,
and a few even look
to
start a business
.  Each person wants something that makes sense in their life, and you may be surprised where many of them end up.
NETWORK MARKETING
Did you know that in the next 4 years approximately 1 in every 3 households will be involved with a company in this industry.
Why?
Some of the most
common reasons
people state for why they get involved with Network Marketing include:
The ability to set your own hours
The potential of true financial freedom
The fact that it can easily fit into your life
The promise of time freedom
No boss telling you what to do
But is it true?
Do you really get all that?
Are there strings attached?
Is it a scam?
AND MOST IMPORTANTLY
Is it the right solution for you?
You can stop wondering if it's right for you and finally get the whole story about Network Marketing from someone who isn't trying to get you to join their team or organization.
We have just what you're looking for!

Our products will help you do your research – letting you take the time you need to find out about the industry, get answers to your concerns, and see if the benefits are really what you're looking for.

In less than 1 hour you can discover:
The Benefits
How to make money
How to tell if it's a scam
What it takes to succeed
How to know if it's right for YOU!
You can do all of this with:
No one looking over your shoulder.
No one trying to twist your arm.
No one trying to convince you.
Just a straight forward look at a growing industry that might be what you are looking for!
You May Be Wondering Why should you listen to us? 
Good question! 
We, wrote the book for you! The fact is, we've been where you are now, 2 of us "got the car" and we all built strong organizations. We've lived through the school of hard knocks as we built our businesses and found our own success.  We've worked with a number of different network marketing companies and lots of different people. And we get it!
Sometimes we loved it, and sometimes we hated it.  Sometimes we made money, and sometimes we lost money.  We've discovered that this industry can be brilliant, and it can be very painful.  And we've learned how important it is to know what and who you are getting involved with, before you say YES! 
Industry leaders have this to say about One Way Out….
"This no-hype prospecting tool is for people who want unbiased, straight-to-the-point information before they sign up in a networking opportunity, as well as for networking novices who are looking for a better understanding of the networking profession. The authors teach with clarity and brevity how network marketing works, how to evaluate a company, common concerns and objections, do's and don'ts, and what it takes to be successful. Leaving your prospect with this fifty-three-page booklet after you make your presentation will enhance the professional image of the opportunity you offer and give your prospect solid grounds on which to make a decision." —Josephine M. Gross. Ph.D., Editor in Chief, Networking Times [Reproduced with permission from the May/June 2008 issue of Networking Times, www.networkingtimes.com]
Our passion is to change the face of an industry, and in doing so we are eager to share our lessons with you so you don't have to learn the hard way!
All our best in the pursuit of your dreams!